Hana's Suitcase by Emil Sher: Based on the original story by Karen Levine, the piece centers around a young girl during World War II and takes us to Europe, Japan, and Canada. This professional staging was produced by The Institute for Holocaust Education (Omaha) in cooperation with The Omaha Theater Company. It was performed at the Jewish Community Center Theater in Omaha, NE. Hana's Suitcase utilized rear screen projection. I wanted to push the technology so it would provide not only setting, but also movement, tension, and enhancement of the narrative. The script states that the other prisoners in concentration camps are to appear on stage, "like faceless almost ghostly figures." I chose, however, to show their faces to portray them not as ghosts but as real people with stories to tell. I asked the scene designer to create a stark, unit set that focused the audience on the characters and their isolated, empty world. Over the course of two weeks, 7,000 students saw the show in school-based performances. These students also participated in pre- and post-performance workshops.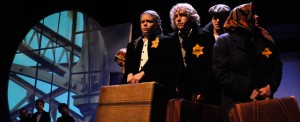 The Secret Life of Girls by Linda Daugherty: Following up the success of Hana's Suitcase, I was contacted by the regional office of the Anti-Defamation League to direct a production that specifically focused on the issue of Cyber Bullying. This time, the script called for us to use rear screen projection to illustrate that technology, if used inappropriately, can destroy lives. In Secret Life we used a rear screen to simulate sites like Facebook and Google Chat. I felt a strong need for age-appropriate and ethnically diverse casting, and I spent a year and a half visiting different educational institutions. The end result was a rich ensemble of confident young women. Fifteen thousand students saw this show for free. Each of them participated in theater engagement workshops along with digital citizenship training prior to and after seeing the play.
Brundibar, a children's opera by Hans Krasa: The original production was performed many times in the Nazi concentration camp, Terezin, by a cast of children while they were prisoners there. The story follows a brother and sister who have come to town to get milk and bread for their sick mother. Penniless, they decide to follow the example of Brundibar, an organ grinder, and sing for passersby hoping they can collect enough to buy what they need. Brundibar, however, sings louder than the kids, driving business to himself.  As night falls, they enlist the help of a sparrow, a cat, a dog, and a whole chorus of kids – and sing loud enough to accomplish their mission. Titulary Associate Director, I was in charge of casting and coaching the young singers throughout rehearsal and performance. Ten thousand young people saw the show. The cast was visited by Ela Stein Weissberger, who played the Cat in the original production at Terezín.
Other Productions
Go, Dog Go!, James Larson's stage adaptation of the popular children's book by P. D. Eastman: I collaborated with the production staff to create scenery that honored the children's book. The piece was performed in a circus-like style, with the addition of a Clown and a Ring Master to help move the play along.



Annie
Book by Thomas Meehan, Music by  Charles Strouse, Lyrics by  Martin Charnin
The much-loved story is about the red-headed orphan who steals the hearts of millions and melts the hard heart of millionaire Daddy Warbucks during the Great Depression. I created the world of New York City in the "round".  The play took place on the stage and among the audience.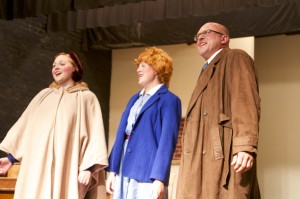 White Christmas
Music and Lyrics by Irving Berlin, Based Upon the Paramount Pictures Film for the screen by Norman Karsna, Norman Panama, and Melvin Frank, Book by David Ives and Paul Blake
After World War II a pair of veterans – a successful song and dance team – follow and fall in love with a duo of singing sisters who are on their way to perform a Christmas show at a Vermont inn, an establishment that turns out to be owned by the men's former army commander. I staged this production in an actual barn.
Shrek: The Musical
Based on the DreamWorks Animation Motion Picture and the book by William Steig.

Book and Lyrics by David Lindsay-Abaire. Music by Jeanine Tesori.
Originally produced on Broadway by DreamWorks Theatricals and Neal Street Productions.
Everyone's favorite ornery ogre is coming to a stage near you in his own merry musical! Join all of your favorite friends and fiends from the Oscar®-winning DreamWorks Animation film—from lovely damsel-not-so-distressed, Fiona; to the "noble steed," Donkey; to the very short and villainous Lord Farquaad and a cast of classic (but cracked) storybook characters—as they challenge the surly Shrek to become an unlikely and reluctant hero. This fractured fairytale farce will leave you with a song in your heart and lots of giggles in your guts!
The Omaha World Herald  said of the show "Director Fran Sillau has created a production with a lot of heart, featuring a cast of Rose favorites and a bunch of appealing kids."
The Doll Maker's Gift
Book by EllaRose Chary and Fran Sillau
Music by Brian Feinstein. Lyrics by Sammy Buck
Based on The Doll Maker's Gift by Sashi Fridman
Produced in Partnership With Deborah Denenberg
Nora is an imaginative little girl whose Russian Jewish community faces the Pogroms of the 1900s, a time of ethnic cleansing of Jews in Russia. After their cousins' village is attacked, Nora's family is forced to flee to America. They discover at the last moment that they don't have enough funds to pay for everyone's passage. Young Nora will have to stay behind, with the threat of attacks ever increasing. She is left with a family friend, a kind doll maker who offers to care for her until they can earn enough money to pay for her journey to America. Nora and the devoted doll maker show that all obstacles can be overcome with the help of good friends and community.
"Families should flock to this one." The Omaha World Herald
My Broken Doll
Based on the book My Broken Doll: A Memoir of Survival of the Vichy Regime by Beatrice Karp as told by Deborah Papenheimer Adapted for the stage by Ernie Nolan
My Broken Doll: The true childhood story of NE Holocaust survivor Bea Karp begins as teenage Beatrice Karp learns she must leave post-war London to begin life anew in the United States. As Bea packs for the journey, each object she places in her suitcase floods her with memories of her life during the war. Audiences are instantly transported to the train rides, concentration camps, and Nazi guards of Bea's memory. Though tragic, this is also a story of acceptance, love, and resilience. The play illustrates to audiences the importance of standing up for what one believes is right.